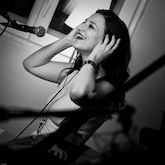 Sans Elle
Music, lyrics, vocals, arrangements & keyboards
Bio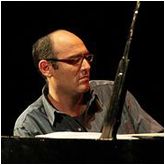 Sergio Gruz
Arrangements
Pianist, composer, arranger of Argentinian origin & French adoption, Sergio is a creative whirlwind: he applies his talent to music, dance & sound design.\nHe has played with Cristina Vilallonga (Gotan Project), Matt Penamn, Darren Becket... Compared to Mehldau & Petrucciani, he is regularly seen on European & American stages with his trio & with his Free Tango duet with Olivier Manoury
Website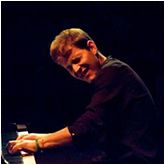 Leonardo Montana
Piano
Born to Anglo-Colombian parents in La Paz, learning piano in Brazil & in Guadeloupe, Leo moved to Paris in 2004 where he studied Jazz Arrangement at the Conservatoire de Paris.Composer, arranger & accompanist to many artists, including Anne Paceo & Fredrika Stahl, with whom he recorded 3 albums, this undefinable pianist is one of few musicians who bring life to the Paris jazz scene. If you find yourself near the rue des Lombards, keep your ears open, he's never far away!
Bio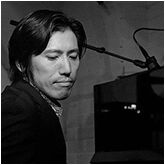 Hiroshi Murayama
Piano
Originally from Tokyo, Hiroshi Murayama built a solid reputation on his deep knowledge of jazz history, his open-mindedness & his omnipresent sense of swing.He has been living in Paris since 2005 where he set up his trio & has accompanied jazz & folk artists. Hiroshi won the Grand Prix Yokohama Jazz Promenade accompanied by big nippon jazz names or American & European folk artists (e.g. Jane Birkin) on stage & in the studio
Website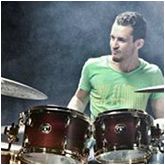 Archibald Ligonnière
Drums
At only 12 years old, Archibald first entered the Baiser Salé jazz club in Paris, where he met François Constantin & Eric Serra.Following this, he met such decisive artists as Hadrien Féraud (John McLaughlin), Damien Schmitt (Alain Caron), Gildas Boclé, Vincent Bidal, Michael Lecoq, Nelson Veras ... From 2010, he played in various bands such as Keltic Tales, with whom he participated in the ONE SHOT NOT TV show (Manu Katché), won the Drums Addict Festival 2010 final & was sponsored by prestigious drum brands such as Gretsch & Gibraltar in 2012
Reverbnation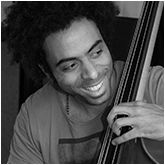 Damian Nueva Cortès
Bass & Double Bass
Damian Nueva Cortés: Bass & Double Bass</h1>Originally from Havana, Damian comes from a large family of well-known musicians such as Xiomara Alfaro, Roberto Fonseca, Chucho Valdez, to quote but a few. Instrumentalist & composer, Damian collaborated with a new generation of musicians from multiple origins & influences: Grégory Privat, John Lgend, Didier Lockwood, David Murray, AYO, Oum, Dimitri Naiditch , Alba Molina...
Myspace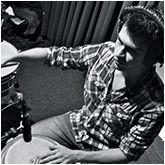 Fabian Suarez
Percussions
Of Colombian origin, Fabian moved to Paris to study music at ATLA & CNR. Besides he also studies ethnomusicology. He quickly joined various projects such as the Sans Elle Pop Project & Niko Coyez with whom he recorded 2 albums. Fabian has been hosting Parisian latin evenings ever since & keeps involving himself in multiple human & creative projects to share his passion with the greatest number
Facebook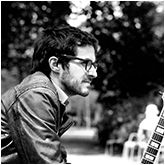 Vincent Verger
Electric Guitar
Vincent studied jazz in Paris in 2007, first at IMEP where he met Sans Elle, then at the CRR. He developed links with musicians there, such as Leonardo Montana with whom he founded his Quintet, a contemporary jazz proposal to be discovered asap!Vincent had been awarded the first soloist prize by the Sunside jazz club for the 2014 trophy edition
https://soundcloud.com/vincent-verger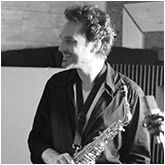 Phil Hilfiker
Saxophone
Born in German-speaking Switzerland, having lived pretty much everywhere, in particular the USA where he graduated from Berklee, this multi-faceted soloist (sax, clarinet) & creative (music, photography) has collaborated in numerous projects (live, studio, TV) & played, amongst others, with Benny Golson, Randy Brecker, Bob Berg, Adam Nussbaum, Jerry Bergonzi, Christian Jacob... He finally settled in Paris where he co-founded IMEP (International Music Educators of Paris)
IMEP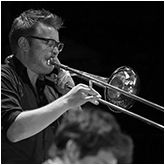 Lucas Spiler
Trombone
From Adelaïde, South Australia, Luca played professionally in his hometown & abroad for 8 years in jazz & contemporary music groups.He moved to Paris recently to continue his career on an international scale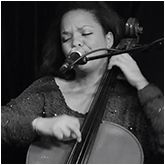 Ailime Calcedo
Cello
Of Cuban origin & Spanish adoption, Ailime studies at the Conservatoire A. Roldàn (Cuba) & played in symphonic & lyric orchestras and taught cello in Cuba, Madrid since 2002. In 2011, she moved to Paris several & continued teaching and performing in studio (Felipe Cabrera) or.She then founded the very latin trio Tres Palabras
Facebook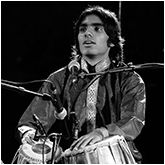 Mosin Khan Kawa
Tabla
From the Sufi tradition & a large musical family, Mosin plays percussion, mainly tabla, & improvises naturally, which quickly brought him to jazz & fusion.He plays in India & throughout Europe with his band the Kawa Brothers, & with well known musicians such as Anoushka Shankar, as well as with younger artists.
Website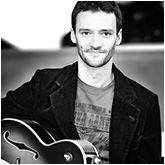 Nils Frechilla
acoustic guitar
A true Sans Elle comrade, Nils has been teaching, playing & composing for several years for theatre, short films & his own project: Milon, an atypical band led by two female vocalists (Leïla Martial & Lou Tavanou) who oppose & attract each other & where Nils shines with the pure sound of latin-rhythm mixed-race melodies
Soundcloud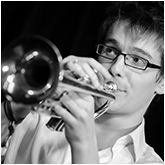 Coviel Gazeilles
Trumpet
Coviel Gazeilles: Trumpet</h1>Coviel has been playing trumpet since he was 12 & has grown in an eclectic environment (big band, jazz, funk, soul, reggae...)He is currently a member of the very soul band Ye Yo with Phil Hilfiker & of Kudiwa Street
Jonathan Lefèvre-Reich
Mixing & Mastering
From CNSM, Jonathan also recorded & mixed Vincent Verger Quintet's EP & is currently continuing his career in London
Soundcloud